Our priority is your vision.

Why Patients Choose Ebata Eyecare Optometry
As a local, family-owned and operated optometric practice, Ebata Eye Care greatly appreciates the support of our patients when it comes to their eye care needs. Over the last 40 years, the doctors at Ebata Eye Care have served thousands of patients in Kamloops and the surrounding regions.  We truly believe in supporting the community we live in and make it part of our mandate to give back to various charities and events that are important to our patients.  A patient to us is not just a condition they suffer from, but a person whose quality of life we hope to improve.
Ebata Eye Care believes that one of the most important aspects of health care is developing a trusting relationship between our doctors, staff and patients.  We strive to build strong relationships with each and every patient so that we can provide the best possible care and vision solutions for them.  Our clinic offers the most advanced eye care products and services.   And our highly skilled team can answer all of your questions related to glasses, sunglasses, contact lenses, eye health concerns and therapeutics.  When it comes to something as precious as the gift of sight, we do not compromise with your eyes. We're committed to providing you the best experience.
We had Dr. Gene Ebata as our "eye guy" since 1977 in Merritt and continue to use their services to this day in Kamloops. We can't say enough to show our appreciation of how well we have been treated over the years by Dr.'s Gene and Russ Ebata and the staff. Everyone is friendly and helpful and they treat all their customers the same way. Thank you so much for taking care of our needs. We wouldn't go anywhere else. You are all appreciated.

Dave and Betty M.
I come all the way from Calgary, AB to come to Ebata Eyecare! I have been with this office for 11 years! I moved from BC in 2009, but remained a patient because of the wonderful staff and doctor. They take care of their patients and care. After Dr. Ebata Sr. retired, Dr. Ebata Jr. continued with the same care and level of service as his father. Even though I am here once a year, they remember me and make me feel special.

Chloe R.
I have been coming to Ebata Eyecare since I was a child. Throughout the years, they service has always been amazing. The staff (members are) is always so friendly. The prices are great. They work with you. You feel like a part of the family. I would never go anywhere else for my eye care needs

Taylor K.
My husband and I have been coming to Dr. Ebata`s since the 1980`s. We have always had wonderful care from Dr. Ebata and his staff. We feel at home when we arrive after driving in from Lillooet. Dr. Ebata and staff have always looked after our eye care needs very professionally.

Anonymous
Always willing to help – been doing business and eye care with them for many years. I have always been happy with my glasses. We are able to be seen in a timely manner, friendly. They have great hours of operation for the business. They explain the prescription and the types of glasses in a manner we can understand. They are also patient while I try on frames.

Anonymous Submission
I had an excellent experience with them. The whole staff is very friendly and helpful, the doctor I had (Lindsay Copeland) took her time to explain things to me and answer any questions I had. Clearly cares about her patients. Great service from the entire staff, it was my first time there and I will definitely return.

Olivia M.
I have been having my eye examination and purchasing glasses from Dr. Ebata and staff for over 30 years. I cannot tell you how much I appreciate the kind and welcoming greetings I get from the staff and doctors, whether on the phone or in person. They never fail to take time to make sure I am aware of the options available and with their excellent selection. Never once have I felt rushed – they have always taken the time to explain choices and I am always happy with the ultimate decision. The staff members always phone to remind me of appointments. In this automated world, it is so nice to hear their friendly voices. I also appreciate that they take the time and follow up to make sure I am happy with my choices. Dr. Ebata's office is located in a convenient location in a clam and pleasant atmosphere. When I had a problem requiring more management that Dr. Ebata was comfortable with, he was quick to ensure that I was treated by a specialist to follow up with that for me. In today's world, there are so many options and I am very grateful for the care and services I received.

Elsie R.
I wanted to express my sincere gratitude for the care that my son, Wesley and I recently received from your practice. From my first contact to the very end has been a pleasant experience. Initially, I chose Ebata Eyecare because you were recommended by my co-workers and direct billed our insurance. I was very happy to see your really nice (and informative) website. Everything worked on it and had valuable background information. I tried to set an appointment from the website but was not sure that it actually happened so I sent an email (before business hours). You personally replied to my email and said that your folks would be calling me when they got in. That was awesome! Once we got to your practice (which is a great location) we were greeted by your administrative staff. They were professional, competent and quite friendly. From the insurance billing to the initial eye testing, it was easy and comfortable. I have found this behaviour in the workplace is typically the mark of good leadership when everyone works together so well. It was a cohesive vibe to say the least. Your gals at the front were terrific. Dr. Copeland... She totally rocked! Besides her sweet manor, she informed me on what she was doing. She also educated me and answered all my questions and she gave me a sample of the most comfortable contacts I have ever worn in my life. I was impressed, to say the least. Kelly, your optician was phenomenal. She went the extra mile to make sure that both my son and I were happy with our purchases and that everything fit. She also provided training on the proper removal of our glasses to ensure the frames last longer. No one has ever given me these kinds of simple instructions before. When we picked up our glasses yesterday, it was close to being end of business and she had other people waiting, Kelly did not make us feel rushed. She was awesome. Last but not least was you... I watched you with your elderly patients. Energy and kindness appear to emanate from you. While I was trying to remove my contacts to be fitted with Kelly, you noticed me struggling. I think most people would have left me to struggle. You came over and helped me! I'm not even your patient and you took the time to come over and advised me of the proper way to remove my contacts (I have been doing it all wrong for 20+ years)! I was/am so grateful to know this simple little trick. Thank you so much! What an impact you have made for something so simple! If I had to rate your business, I would give you 10 out of 10 stars. Please believe me when I tell you that I do not give kudos lightly. I have already referred another co-worker to come see you guys and I plan to give you a positive review via google. Your team totally rocked it and in the 43 years I have required eye care (that I can recall anyway), I found the best of it all in Kamloops. Thanks so much.

Kelly E.
Our clinic's philosophy is "helping people live better lives through better vision", which encompasses our feelings that by helping people see their best it will make their lives more enjoyable. We treat our patients as individuals, not by the conditions they have. This way, our patients receive the very best care and attention during every visit.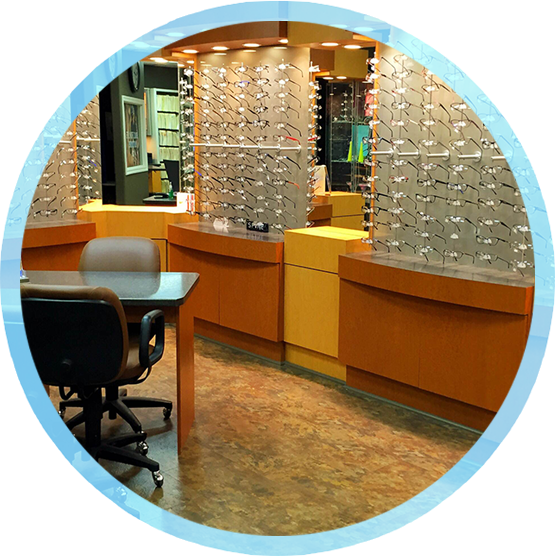 Commitment to
Our  Community
Ebata Eye Care is committed to helping our local community.  Every year we support numerous causes that are important to our patients and to ourselves.  We believe in giving back to the people who support us.  Whether it is our annual Day of Caring with the United Way where we provide complimentary glasses and eye examinations to members of the community that cannot afford eye care, donating a pair of sunglasses to a local hockey tournament, or supporting the RIH Foundation, we like all causes, big or small.
We are a Proud Supporter of: